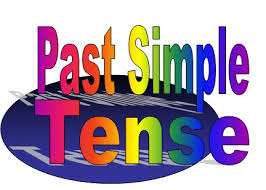 El pasado simple en ingles es la manera en que se escriben los verbos en pasado, para lo cual existen 3 procedimientos básicos:
a)      Identificar si es una frase afirmativa, negativa o en pregunta, porque en estos dos últimos casos, el pasado simple de los verbos en inglés, corresponde al mismo verbo en infinitivo, precedido de la conjugación del auxiliar "Did". I go to the cinema (presente: yo voy al cine), I did not go to the cinema (pasado negativo: yo no fui al cine). Did you go to the cinema? (Pasado en pregunta: ¿fuiste al cine?).
b)      Identificar si se trata de un verbo regular, porque de ser así, al verbo en presente se le adiciona "ed" o "d", para convertirlo en pasado simple en ingles. I want the red fruits (presente: yo quiero las frutas rojas), I wanted the red fruits (pasado: yo quise las frutas rojas).
c)      Identificar si por el contrario se trata de un verbo irregular en donde debes aprenderte de memoria como se conjuga el verbo en pasado simple en ingles. I give money to the school (presente: yo doy dinero a colegio), I gave money to the school (pasado: yo di dinero al colegio).
1. ¿Cuáles son las reglas de pasado simple en ingles para los verbos regulares?
a)      Si el verbo termina en "y" como en Study, el pasado simple se construye reemplazando la "y" por "i" y luego se agrega "ed" obteniendo Studied.
b)      Si el verbo termina en "e" como en Like, para el pasado simple solo se agrega la "d" obteniendo Liked.
c)      Si el verbo terminal en una consonante diferente a "y" o "w", como en Stop, en el pasado simple se dobla la consonante y se adiciona "ed", obteniendo Stopped.
2. Cuáles son los verbos regulares más utilizados en inglés con su respectivo pasado simple:
Answer – Answered (Responder, to answer the question: responder la pregunta)
Ask – Asked (Preguntar, to ask a question: hacer la pregunta)
Brush – Brushed (Cepillar, to brush the teeth: lavar los dientes)
Clean – Cleaned (Limpiar, to clean the house: limpiar la casa)
Cook – Cooked (Cocinar, to cook the food: cocinar la comida)
Dance – Danced (Bailar, to dance rock and roll: bailar rock and roll)
Discover – Discovered (Descubrir, to discover the mystery: descubrir el misterio )
Deliver – Delivered (Entregar, to deliver the mail: entregar el correo)
Enjoy – Enjoyed (Disfrutar, to enjoy the party: disfrutar la fiesta)
Explain – Explained (Explicar, to explain the solution: explicar la solución)
Finish – Finished (Terminar, to finish the work: terminar el trabajo)
Fish – Fished (Pescar, to fish in the ocean: pescar en el oceano)
Happen – Happened (what happen? ¿Que pasó?)
Kiss – Kissed (Besar, to kiss the girl: besar la niña)
Like – Liked (Gustar, I like you: me gustas)
Live – Lived (Vivir, to live in the city: vivir en la ciudad)
Need – Needed (Necesitar, I need you: te necesito)
Open – Opened (Abrir, to open the door: abrir la puerta)
Paint – Painted (Pintar, to paint the wall: pintar la pared)
Punish – Punished (Castigar, to punish the dog: castigar el perro)
Remember – Remembered (Recordar, to remember the song: recordar la canción)
Show – Showed (Mostrar, to show the place: mostrar el lugar)
Smile – Smiled (Sonreir, to smile a lot: sonreir mucho)
Start – Started (Comenzar, to start the game: comenzar el juego)
Study – Studied (Estudiar, to study at school: estudiar en el colegio)
Visit – Visited (Visitar, to visit the town: visitar la ciudad)
Wait – Waited (Esperar, to wait the train, esperar el tren)
3. Cuáles son los verbos irregulares más utilizados en inglés con su respectivo pasado simple:
Be – Was o Were (Ser, to be a giant, ser un gigante)
Become – Became (Llegar a ser, to become a doctor: llegar a ser doctor)
Begin – Began (Comenzar, to begin the story: comenzar la historia)
Bet – Bet (Apostar, to bet the lottery: apostar la loteria)
Break – Broke (Romper, to break the rules: romper las reglas)
Bring – Brought (Traer, to bring the newspaper: traer el periódico)
Build – Built (Construir, to build the building: construir el edificio)
Burn – Burnt (Quemar, tu burn the evidences: quemar las evidencias)
Buy – Bought (Comprar, to buy a gift: comprar un regalo)
Choose – Chose (Escoger, to choose a color: escoger un color)
Come – Came (Venir, to come late: venir tarde)
Cut – Cut (Cortar, to cut the hair: cortar el cabello)
Draw – Drew (Dibujar, to draw a face: dibujar la cara)
Drink – Drank (Beber, to drink water: beber agua)
Drive – Drove (Conducir, to drive the car: conducir el auto)
Do – Did (Hacer, to do the work: hacer el trabajo)
Eat – Ate (Comer, to eat food: comer comida)
Feed – Fed (Alimentar, to feed the birds: alimentar los pájaros)
Feel – Felt (Sentir, to feel good: sentirse bien)
Fight – Fought (Luchar, to fight against enemies: luchar contra enemigos)
Find – Found (Encontrar, to find a person: encontrar una persona)
Fly – Flew (Volar, to fly by airplane: volar por avión)
Forget – Forgot (Olvidar, to forget the name: olvidar el nombre)
Forgive – Forgave (Perdonar, to forgive for the fault: perdonar por la falta)
Freeze – Froze (Congelar, to freeze the meet: congelar la carne)
Get – Got (Obtener, to get the first place: obtener el primer puesto)
Give – Gave (Dar, to give money: dar dinero)
Go – Went (Ir, to go home: ir a casa)
Grow – Grew (Crecer, to grow 3 centimeters: crecer 3 centímetros)
Have – Had (Tener, to have a lot of money: tener mucho dinero)
Hear – Heard (Oir, to hear noises: oir ruidos)
Know – Knew (Conocer, to know the rules: conocer la reglas)
Learn – Learnt (Aprender, to learn English: aprender inglés)
Leave – Left (Dejar: to leave the town: dejar la ciudad)
Lend – Lent (Prestar, to lend the book: prestar el libro)
Let – Let (Permitir, to let the people be free: permitir a la gente ser libre)
Make – Made (Fabricar, to make a cake: fabricar un ponqué)
Meet – Met (Encontrarse, to meet some people: encontrarse con algunas personas)
Pay – Paid (Pagar, to pay the bill: pagar la cuenta)
Read – Read (Leer, to read the document: leer el documento)
Ride – Rode (Montar, to ride a bike, montar en bicicleta)
Run – Ran (Correr, tu run the race: correr la competencia)
Ring – Rang (Sonar, to ring the bell: sonar el timbre)
Say – Said (Decir, to say bad words, decir malas palabras)
See – Saw (Ver, to see the game: ver el juego)
Sell – Sold (Vender, to sell the computer: vender el computador)
Sing – Sang (Cantar, to sing the melody: cantar la melodia)
Sleep – Slept (Dormir, to sleep at night: dormir por la noche)
Smell – Smelt (Oler, to smell good: oler bien)
Shoot – Shot (Disparar, to shoot the gun: disparar el arma)
Speak – Spoke (Hablar, to speak French: hablar francés)
Spend – Spent (Gastar, to spend the money: gastar el dinero)
Spell – Spelt (Deletrear, to spell the words: deletrear las palabras)
Split – Split (Dividir, to split the group: dividir el grupo)
Stand – Stood (Levantarse, to stand up in the morning: levantarse en la mañana)
Steal – Stole (Robar, to steal the jewels: robar las joyas)
Swim – Swam (Nadar, to swim in the swimming pool: nadar en la piscina)
Take – Took (Tomar, to take the keys: tomar las llaves)
Teach – Taught (Enseñar, to teach math classes: enseñar clases de matemáticas)
Tell – Told (Decir, to tell stories: decir historias)
Think – Thought (Pensar, to think brilliant: pensar brillante)
Throw – Threw (Arrojar, to throw the ball: arrojar la bola)
Understand – Understood (Entender, to understand the situation: entender la situación)
Wake – Woke (Despertar, to wake up at 8 o'clock: despertarse a las 8 de la mañana)
Wet – Wet (Mojar, to wet the clothes, mojar la ropa)
Win – Won (Ganar, to win the bigger prize: ganar el premio mayor)
Write – Wrote (Escribir, to write a novel: escribir una novela)
4. Usos del pasado simple:
a)      El principal uso del pasado simple es hablar de acciones que comenzaron y terminaron en el pasado, por ejemplo: You were at my house last night (estuviste en mi casa la noche anterior). Aquí puedes observar que el pasado simple se acompaña por lo general de adverbios de tiempo "last night" o "last year" o "yesterday".
b)      También se utiliza el pasado simple en ingles para mencionar varias acciones simultáneas que se presentaron en el pasado. You listened the noise and immediately pay attention (escuchaste el ruido e inmediatamente pusiste atención).
c)      Otro de los usos del pasado simple en ingles corresponde a las acciones que se repiten en forma habitual en el pasado. We always changed our plans when we were married (siempre cambiamos los planes cuando estábamos casados).
5. Conjugación del pasado simple en ingles:
a)      Verbo To be (ser)
I was
You were
He or She was
We were
They were
b)      Verbo Regular To ask (preguntar)
I asked
You asked
He or she asked
We asked
They asked
c)      Verbo Irregular To go (ir)
I went
You went
He or She went
We went
They went
d)     Verbo en pregunta To say (decir)
Did I say?
Did you say?
Did she or he say?
Did we say?
Did they say?
También se puede utilizar partículas interrogativas como "What":
What did I say?
What did you say?
6. Ejercicios de utilización del pasado simple en ingles:
You (finish) the lesson last night.
I (not change) my work for many years.
We (be) on time last Sunday.
You (study) French each day last month.