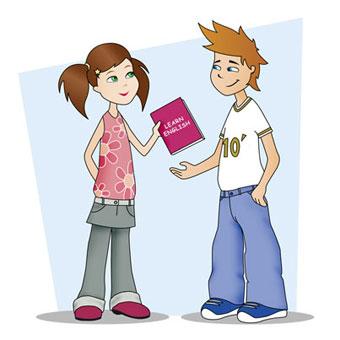 El presente simple en ingles es una de las expresiones de la comunicación más utilizadas, en el lenguaje verbal y escrito, lo cual te obliga a que aprendas la mayor cantidad de verbos posibles. En especial aquellos que se relacionan con tu vida cotidiana, trabajo, compras en el comercio, entretenimiento y viajes de descanso. Los verbos expresan acciones (To do o Hacer), pensamientos (To think o Pensar), emociones (To feel o Sentir), desarrollo espiritual (To believe o Creer), es decir todo lo que se relaciona con la persona y su vida cotidiana.
1. Bases del presente simple en ingles:
La conjugación del presente simple en ingles se realiza a partir de la estructura del verbo en infinitivo, variando para la tercera persona. Por ejemplo: To begin (empezar) se conjugaría igual "begin" para el presente simple excepto en la tercera persona a la cual se le adicionaría la "s" para obtener "begins". I begin You begin He or she or it begins We begin They begin
2. Función de los verbos auxiliares y su conjugación en el presente simple en ingles:
Los verbos auxiliares "To do", "To be", "To have", juegan un papel importante en el inglés y en el caso concreto del presente simple se utiliza el verbo "To do" para la negación y hacer preguntas. You go to the theater (tu vas al teatro) Do you go to the theater? You don't go to the theater.
3. El presente simple del verbo To do:
I do – You do – He or She or It does – We do – They do
4. El presente simple del verbo To be:
I am – You are –  He or she or It is – We are – They are
5. El presente simple del verbo To have:
I have – You have – He or She or It has – We have – They have
6. Los diferentes tipos de verbos y su uso en el presente en ingles:
Existen verbos principales sobre los que recae la acción (I go to the school – Yo voy al colegio), se pueden adicionar verbos auxiliares o complementarios para hacer énfasis a la acción principal (I am going to school – Yo estoy yendo al colegio), luego se utilizan los verbos modales para mostrar orden o posibilidad u obligación (I must go to school – Yo debo ir al colegio).
7. Los verbos más utilizados su presente simple en ingles:
7.1 Verbos en presente simple en ingles más utilizados en el viaje y el entretenimiento:
buy (comprar) – I buy, He or She buys – They buy some train tickets (ellos compran algunos tiquetes de tren)
can (poder) – I can, He or She can – We can go to Miami (nosotros podemos ir a Miami)
cancel (cancelar) – I cancel, He or She cancels – The airlines cancel the airplanes departure (las aerolíneas cancelan las salidas de los aviones)
change (cambiar) – I change, He or She changes – The weather changes form cold to hot (el clima cambia de frío a caliente)
dance (bailar) – I dance, He or She dances – We dance in class (nosotros bailamos en clase)
dream (soñar) – I dream, He or She dreams – They dream in the vacation (ellos sueñan en sus vacaciones)
fall (caer) – I fall, He or She falls – The snow fell form the sky (la nieve cae del cielo)
feel (sentir) – I feel, He or She feels – She feels good (ella se siente bien)
find (encontrar) – I find, He or She finds – The boys find their passport (los niños encuentran su pasaporte)
fly (volar) – I fly, He or She Flies – The birds fly by day (los pájaros vuelan de día)
go (ir) – I go, He or She goes – I go to the beach on vacation (yo voy a la playa en vacaciones)
hit (golpear) – I hit, He or She hits – I hit the ball with force (yo golpeo la bola con fuerza)
hope (desear) – I hope, He or She hopes – I hope you gain the game (yo deseo tu ganes el juego)
leave (dejar) – I leave, He or She leaves – I leave the town at 8 o'clock (yo dejo la ciudad a las ocho)
like (gustar) – I like, He or She likes – I like you very much (me gustas mucho)
look (observar) – I look, He or She looks – I look through the window (miro a través de la ventana)
love (amar) – I love, He or She loves – I love the spectacular view (amo la espectacular vista)
move (mover) – I move, He or She moves – You move from here to there (tú te mueves de aquí a allá)
pay (pagar) – I pay, He or She pays, I pay the bill at the restaurant (yo pago la cuenta en el restaurante)
play (jugar) – I play, He or She plays, She plays baseball and basketball (ella juega béisbol y baloncesto)
rain (lllover) – I rain, It rains, It rains a lot everyday (llueve mucho todos los días)
see (ver) – I see, He or She sees, The people see what they want (la gente ve lo que desea)
spend (gastar) – I spend, He or She spends, We spend much money that we receive (nosotros gastamos más dinero que el que recibimos)
wait (esperar) – I wait, He or She waits, I wait for a long time (yo espero por mucho tiempo)
walk (caminar) – I walk, He or She walks, Mary walks two hours a day (María camina dos horas en el día)
want (querer) – I want, he or She wants, I want to stay at home (quiero quedarme en la casa)
7.2. Verbos en presente simple en ingles más utilizados en el día a día:
accept (aceptar) – I accept, He or She accepts, I accept to go to the party (acepto ir a la fiesta)
be (ser o estar) – I am, he or She is, you are the best woman (tu eres la mejor mujer)
begin (empezar) – I begin, He or She begins, He begins the lesson first (el empieza la lección primero)
believe (creer) – I believe, He or She believes, You believe in God (tu crees en Dios)
break (romper) – I break, He or She breaks, He breaks the rules (el rompe las reglas)
care (cuidar) – I care, He or She cares, My brother cares two children (mi hermano cuida dos niños)
catch (atrapar) – I catch, He or She catches, You catch the ball in the game (tu atrapas la bola en el juego)
clean (limpiar) – I clean, He or She cleans, She cleans the room everyday (ella limpia el cuarto todos los días)
close (cerrar) – I close, He or She closes, They close the store at night (ellos cierran la tienda por la noche)
come (venir) – I come, He or She comes, I come home late (yo vengo a la casa tarde)
cover (cubrir) – I cover, He or She covers, I cover the cake with chocolate (yo cubro la torta con chocolate)
cut (cortar) – I cut, He or She cuts, The mother cuts the fruits (la mama corta las frutas)
drink (tomar) – I drink, He or She drinks, You drink a lot of water (tu Tomás mucha agua)
drive (manejar) – I drive, He or She drives, My son drives the red car (mi hijo maneja el auto rojo)
eat (comer) – I eat, He or She eats, The young people eat few food (la gente joven come pica comida)
freeze (congelar) – I freeze, He or She freezes, The restaurant freezes the fruits to make juice (el restaurante congela las frutas para hacer jugo)
fix (arreglar) – I fix, He of She fixes, I fix the electronic computers (yo arreglo los computadores electrónicos)
forgive (perdonar) – I forgive, He or She forgives, She forgives her brother (ella perdona su hermano)
get (obtener) – I get, He or She gets, They get what they deserve (ellos reciben lo que merecen)
give (dar) – I give, He or She gives  I give you my love (te doy mi amor)
hate (odiar) – I hate, He or She hates, The people hate the loud voices (la gente odia las voces altas)
have (tener) – I have, He or She has, My friend has the most important stamp collection (mi amigo tiene la más importante colección de estampillas)
hurt (herir) – I hurt, He or She hurts, you hurt me in my feelings ( tu me heriste en mis sentimientos)
lie (mentir) – I lie, he or She lies, The neighbor lies when he talks to me (el vecino miente cuando me habla)
live (vivir) – I live, He or She lives, The animals live in the zoo (los animales viven en el zoológico)
lose (perder) – I lose, He or She loses, I lose my keys in your house (perdí mis llaves en tu casa)
need (necesitar) – I need, He or She needs, My aunt needs love (mi tía necesita amor)
open (amor) – I open, He or She opens, The door opens with noise (la puerta abre con ruido)
play (jugar) – I play, He or She plays, The basketball team plays very well (el equipo de baloncesto juega muy bien)
run (correr) – I run, He or She runs, The athlete runs fast (el atleta corre rápido)
sleep (dormir) – I sleep, He or She sleeps, My father sleeps bad (mi padre duerme mal)
use (utilizar) – I use, He or She uses, I use the pencil to write a letter (utilizo el lápiz para escribir la carta)
wait (esperar) – I wait, He or She waits, The tourists wait on line for twenty minutes (los turistas esperan en la fila por veinte minutos)
want (querer) – I want, He or She wants, the women want more liberty (las mujeres quieren más libertad)
wake up (despertarse) – I wake up, he or She wakes up, My family wakes up at six in the morning (mi familia se despierta a las seis de la mañana)
wish (desear) – I wish, He or She wishes, the teachers wish a better place (los profesores desean un mejor lugar)
7.3. Verbos en presente simple en ingles más utilizados en el trabajo:
accept (aceptar) – I accept, He or She accepts, The employee accepts the rules (el empleado acepta las reglas)
allow (permitir) – I allow, He or She allows, The leader allows the break (el líder permite la ruptura o descanso)
break (romper) – I break, He or She breaks, The enterprise breaks the principles (la empresa rompe los principios)
bring (traer) – I bring, He or She brings, The supplier brings the product (el proveedor trajo el producto)
build (construir) – I build, He or She builds, The manufacturer builds a building (el fabricante construye el edificio)
call (llamar) – I call, He or She calls, The call center calls the customers (el centro de llamadas llama a los clientes)
complain (quejarse) – I complain, He or she complains, The customers complain about everything (los clientes se quejan de todo)
decide (decidir) – I decide, He or She decides, The team decides the best for the organization (el equipo decide lo mejor para la organización)
defeat (vender) – I defeat, he or She defeats, The opponent defeats the enemy (el oponente vence al enemigo)
do (hacer) – I do, He or She does, I do the best to obtain the first place (yo hago lo mejor por obtener el primer lugar)
explain (explicar) – I explain, He or She explains, The teacher explains the lesson (el profesor explica la lección)
fail (perder) – I fail, He or She fails, The team fails the competence (el equipo pierde la competencia)
fear (temer) – I fear, He or She fears, The organization fears the environment (la organización teme el entorno)
fall (caer) – I fall, He or She falls, The sells fall down ( las ventas caen)
fill (llenar) – I fill, He or She fills, They fill the form everyday (ellos llenan la forma cada día)
finish (terminal) – I finish, He or She finishes, the work finishes very late (el trabajo termina muy tarde)
happen (suceder) – I happen, He or She happens, it happens what they have to be (sucede lo que deba ser)
help (ayudar) – I help, He or She helps, The marketing team help the commercial people (el equipo de marketing ayuda a la gente comercial)
let (permitir) – I let, He or She lets, The general manager lets the people develop the abilities (el gerente general permite a las personas desarrollar sus habilidades)
listen (escuchar) – I listen, He or She listens, Everybody listen the voice of customer (todos escuchan la voz del cliente)
make (hacer) – I make, He or She makes, The buzz makes that work seems simple (el jefe hace que el trabajo parezca simple)
manage (administrar) – I manage, He or She manages, The people manages their work carefully (la gente administra su trabajo con cuidado)
meet (satisfacer, encontrar) – I meet, He or She meets, The commercial area meets the customer needs (el area comercial satisface las necesidades del cliente)
mistake (equivocarse) – I mistake, He or She mistakes, My buzz mistakes the objective (mi jefe equivoca el objetivo)
need (necesitar) – I need, He or She needs, The workers need money for living (los trabajadores necesitan dinero para vivir)
offer (ofrecer) – I offer, He or She offers, The employee offers a gift for gaining customer loyalty (el empleado ofrece un regalo para ganar la lealtad del cliente)
perform (desempeñar) – I perform, He or She performs, The financial team performs their best results (el equipo financiero desempeña sus mejores resultados)
plan (planear) – I plan, He or She plans, The girl plans to kiss the boy (la mujer planea besar al niño)
provide (proveer) – I provide, He or She provides, The international seller provides the best product (el vendedor internacional provee el mejor producto)
organize (organizar) – I organize, He or She organizes, Each person organizes their work (cada persona organiza su trabajo)
reply (responder) – I reply, He or She replies, The call center replies all the complaints (el centro de servicio responde todas las quejas)
sell (vender) – I sell, He or She sells, the salesman sells seven days a week (el vendedor vende siete días a la semana)
send (enviar) – I send, He or She sends, The publicist sends a lot of advertising (el publicista envía mucha publicidad)
sign (firmar) – I sign, He or She signs, The family signs the contract (la familia firma el contrato)
speak (hablar) – I speak, He or She speaks, The manager speaks in English (el gerente habla en inglés)
start (iniciar) – I start, he or She starts, The competition starts in the morning (la competencia inicia por la mañana)
stay (quedarse) – I stay, He or She stays, The customer stays near the shopping center (el cliente se queda cerca del,centro comercial)
tell (decir) – I tell, He or She tells, The assistant tells the truth (el asistente dice la verdad)
try (intentar) – I try, He or She tries, The professional tries hard to accomplish the goal (el profesional intenta duro para cumplir la meta)
work (trabajar) – I work, He or She works, the employee works until tomorrow (el empleado trabaja hasta mañana)
write (escrbir) – I write, He or She writes, The buyer write a letter (el comprador escribe una carta)
7.4. Verbos en presente simple en ingles más utilizados en el estudio:
answer (contestar) – I answer, He or She answers, The student answers the question (el estudiante responde la pregunta)
ask (preguntar) – I ask, He or She asks, The teacher asks a difficult question (el profesor hace una pregunta complicada)
become (convertirse) – I become, He or She becomes, The young student becomes a professional (el joven estudiante se convierte en un profesional)
borrow (pedir prestado) – I borrow, He or She borrows, The student father borrows money (el padre del estudiante pide prestado dinero)
count (contar) – I count, He or She counts, The little boy count with the fingers (el pequeño niño cuenta con los dedos)
choose (escoger) – I choose, He or She chooses, The school administrator chooses the best classes (el administrador del colegio escoge las mejores clases)
draw (pintar) – I draw, He or She draws, The girl draws a beautiful picture (la niña pinta una bella imagen)
explain (explicar) – I explain, He or She explains, the principal explains the rules (el rector explica las reglas)
forget (olvidar) – I forget, he or She forgets, I forget to study the lesson (yo olvidó estudiar la lección)
hear (oir) – I hear, He or She hears, They hear a lot of noise near the class room (ellos escuchan mucho ruido cerca de la clase)
keep (guardar) – I keep, He or She keeps, The women keeps the secret (la mujer guarda el secreto)
know (conocer) – I know, He or She knows, She knows all the answers (ella conoce todas las respuestas)
lack (carecer de) – I lack, He or She lacks, The teacher lacks the image to teach (el profesor carece de imagen para enseñar)
learn (aprender) – I learn, He or She learns, The group learn two or three languages (el grupo aprende dos o tres idiomas)
read (leer) – I read, He or She reads, The girls read faster than the boys (las niñas leen más rápido que los niños)
remember (recordar) – I remember, He or She remembers, The big boys remember the names (los niños grandes recuerdan los nombres)
say (decir) – I say, he or She says, He says bad words (el dice malas palabras)
teach (enseñar) – I teach, He or She teaches, The blond hair girl teaches mathematics (la niña de cabello claro enseña matemáticas)
think (pensar) – I think, He or She thinks, they think better in the morning (ellos piensan mejor por la mañana)
understand (entender) – I understand, He or She understands, The students understand better when the work in teams (los estudiantes entienden más cuando trabajan en equipos)
Ver también: